Shopping Basket
Your Basket is Empty
There was an error with PayPal
Click here to try again
Thank you for your business!
You should receive an order confirmation from Paypal shortly.
Exit Shopping Basket
Tara's Toyland Home Daycare
Where Learning is Fun and Friendships Flourish
"J has been saying your name lately at home now too (he says it so cute). He even just went to the door and said "Miss Nora". I said "no J, she's at her house, not here". He then said (what sounded like) "go see Miss Nora"
I know it's been a long time coming, but he sure does love his Miss Nora! "
This is a facebook message I got this past weekend from a daycare parent who's child has been with me a few days a week for the past year.   After he was here for a while I realized his language and some other skills were behind.  I suggested last spring that she call Early Intervention to have him evaluated.  He was about15 months behind on language last fall, so really NO language at all at almost 2 yrs old.  His progress is amazing, and I must admit his mom's comment had me on cloud nine and crying with joy.
Although all children learn different skills at different rates there are some skills that should be met no later then a certain age.  It is extremely hard as a parent to accept that your child may have a problem but identifying a  delay early can mean a child gets the help they need and a small  problem disappears instead of becoming  a big  problem. 
Occasionally I will recommend a child get evaluated by Early Intervention or the child's home school district.  The only outcome of such an evaluation is a positive one - either you will be told your child is right on track or your child will get extra help to get them on track.  Getting help for your child is never a negative thing, but rather a chance for your child to excel in different ways then they currently are.  This child is a perfect example of how positive intervention can be. 
Not all parents take it that well.  Somewhere out there in the web-verse there is a negative review of my childcare.  It hurts to have someone say your program, your house, yourself are terrible.  What she said was not true but she was lashing out because I had told her that her son should be evaluated.  I only want what is best for each child and he was behind in multiple ways.  When he enrolled I had another child, S, who was getting speech and developmental therapy.  The therapists came to my house and when this other boy started both of them suggested he get evaluated.  They instantly confirmed what I saw.  But the parent was hurt by the recommendation and never returned.  It's been years since that parent was here and I wonder about that little boy and hope he did get help. 
S's developmental therapist only had to work with him for a few months.  About the time he got services he went to full time here.   She said that I did more then she ever could and that she had learned many techniques from me.  Pretty cool to have a specialist say they learned from plain ole' me!  
Working with kids that have skills below the average can be a challenge.  With a multi age home daycare group it's easy to just teach them at their level.   Some behaviors or disabilities are out of my expertise though, so there have been times that I have had to say that I am not the right spot for a child.  My concern is always that the child is able to have their needs met while I am still meeting the needs of the group.
Upon request or if the group needs dictate I will perform a standardized developmental test to determine the skills needed for further advancement.  After administering this test many times I have come to know when children are lacking or ahead in most areas.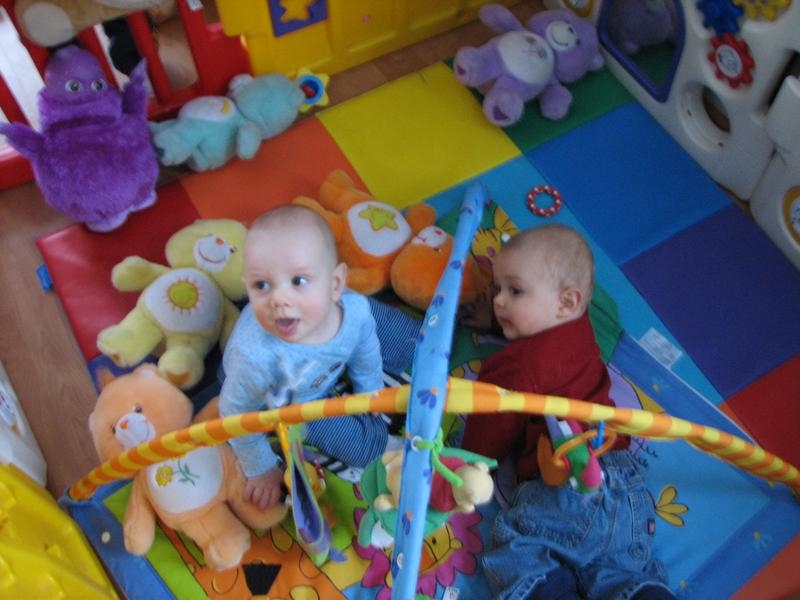 Categories: Early Intervention, Philosophies, Day Care
/