I love when the weather warms up enough that we can play outside for hours at a time.  I have a facebook page that is only for parents of enrolled kids and relatives/friends they want to let read the things I write.  This is a great tool for me to share tidbits of our day, tell the parents what we did that day in preschool and share pictures of our day.   I was looking back at some of those old postings and thought I would share a few that had to do with outside.  If the post contained names I just left the first initial.
May 18 at 11:23am ·
.what a wonderfully relaxing spring day today is!! We spent it outside in back. C and A were finding rolly pollies in the sand box and collecting them. They counted them and were doing adding and subtracting all on their own while they were discussing them. Now C and the boys are eating turkey and muenster cheese sandwiches and comparing different colored tomatoes to see if they taste different. Then off to nap. 
we went for a super long walk today
First we had to learn the safe way to stay with Miss Nora, we can run to the next driveway but not into the actual driveway area in case there is a car backing out or pulling in.
Along the way we saw a snake, it seemed to float along the sidewalk. We also saw ducks and a family of geese. We listened and heard the birds. We saw cattails, and at lunch our corndogs looked just like them. We pet two dogs, found a fishing lure and talked abo...ut that, tried to find any turtles or frogs/toads but they must have been hiding in the mud and we picked dandelions.
When we were at the pond we looked at the water, one pond had nothing on top of the water the other pond had lots of green algae. We took some pond water and algae back to the house to look at under the microscope but it was hard to see anything in the water. It was fun seeing our clothes, skin, hair and green beans under the microscope though. We used an eyeclops which projects the magnified image onto the Tv screen.
We read a book about water too.
the kids played in the sand that is now deep enough, they helped me hang the swings... ok, really C cried and cried for me to get the baby swing hung, then everyone else whined till I got the others hung... they helped me build the picnic table (really!). I was afraid I was going to have to throw out one of the little climbers cause the plastic was cracked. Then I realized only ONE panel was cracked and it still worked with that panel taken out, so we reassembled it and tried it out. M loved feeling the wind and trying to eat grass before I got it out of his fingers. It was a wonderfully relaxing and fun outside day. Nap is ending pretty soon, then we will be back out there again.
cutest thing !! - M was playing football with me when S arrived. So M threw it to S, who caught it and threw it back. Then S ran about 20 feet away and held out his arms to catch it.  M threw it, S got it and M ran 20 feet away and put out his arms. They did this for about 30 minutes!
LOTS of outside time today!! If it wasn't for so much mud we would have stayed longer, but the little guys kept getting muddy then complaining to ME about it!!
May 10, 2011 ·
.
water play kinda got carried away - make sure you have extra clothes here - today I had to use my stash of extras, but it was worth it to have so much fun in the hose!!
We played outside till it started raining, then we played inside. We talked about what you wear in the rain. We used markers on raincoat pictures then observed what the rain did to our marks. S loved this so much he did 4 of them! We talked about big/small and numbers/sizes using clothes and used real socks for matching
The kids opened up the water table to find a surprise! The seeds they had played with in the dirt/mud had sprouted. And they were HUGE. The third picture is the seed in a bag on the window which you can see is no where near that big. We discussed what may have made the seeds in the table grow so much more then the ones on the window. We decided that the window is colder and that maybe the lid being on had something to do with making a good environment and that the dirt probably had a lot to do with it. I can't believe how much these seeds grew in such a short time!!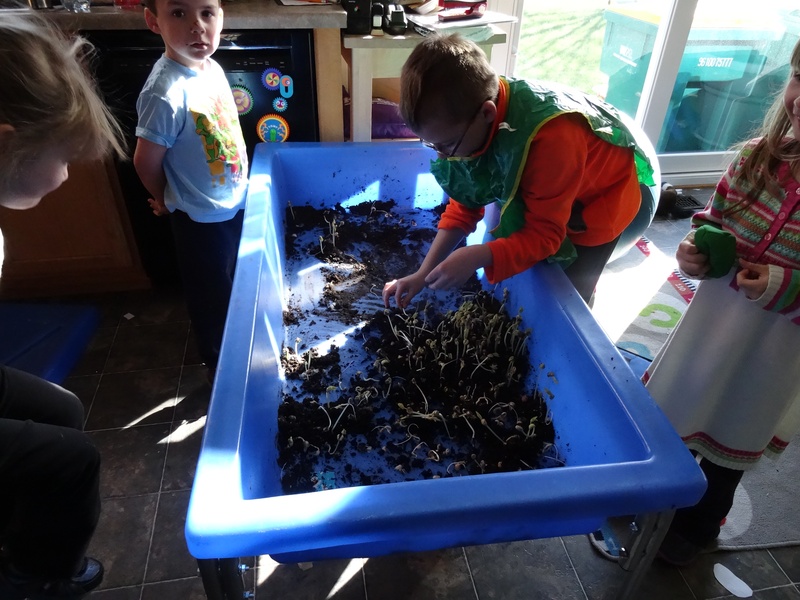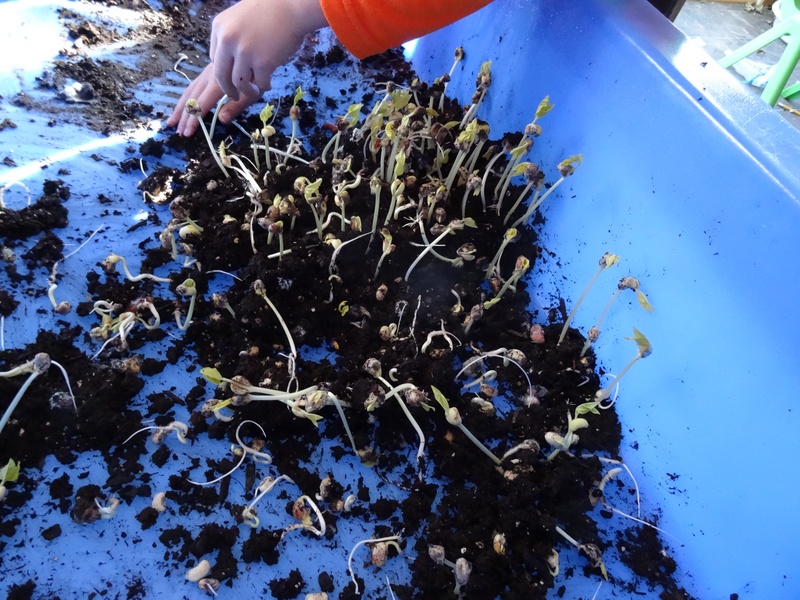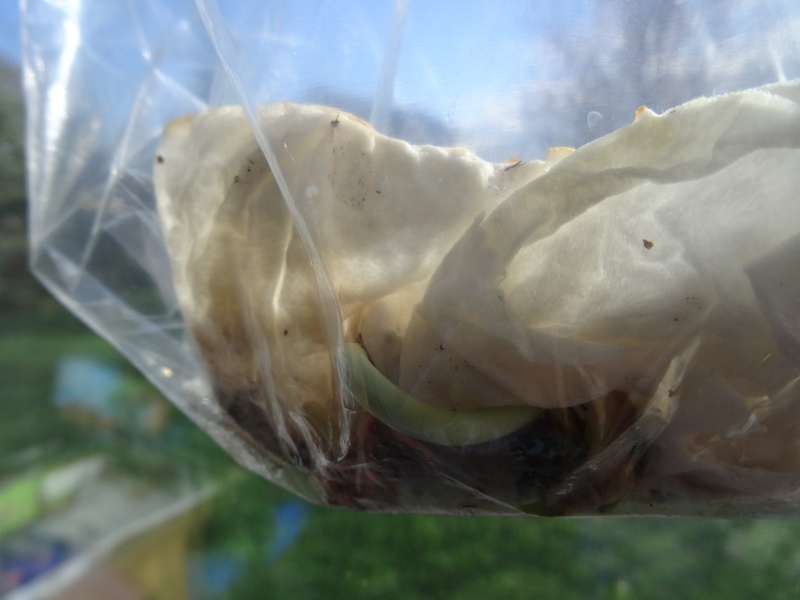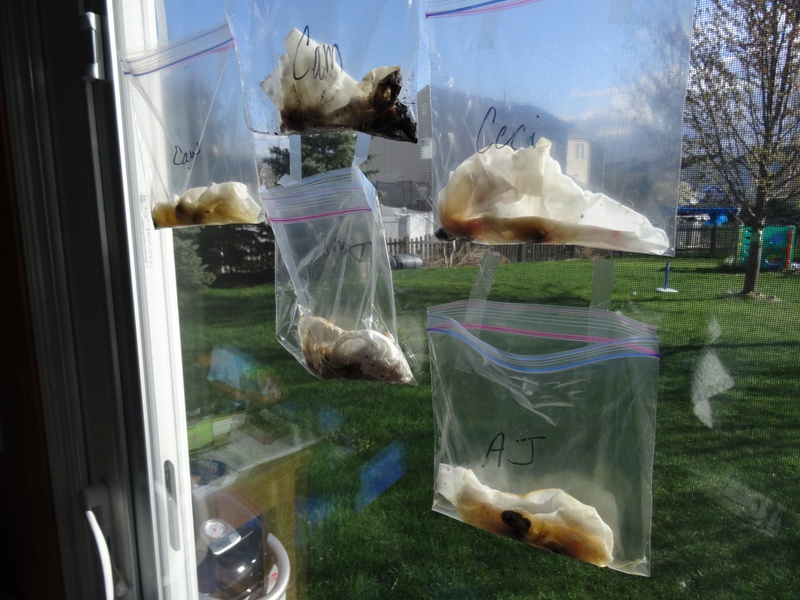 I have a facebook persona (Tara's Toyland) which is only for daycare stuff.  I only allow people connected to the children currently enrolled to "friend" Tara's Toyland so it's all people that somehow know the kids.  It's really neat to be able to give little antedotes of our day or tell everyone at once what we did for our lesson that day.  I post pictures often too.  Parents use it to connect with other parents for playdates or just to keep in touch after they leave my daycare.
Today in my newsfeed.there was a picture from a year ago and it said to click to see more from this day in the past.  I got a smile from what came up - 
April 21, 2014 I posted a photo album  - "dying eggs, babies playing, Pilcher Park".
April 21, 2011 "Please send get better wishes to **** - he had to go to the doctor's today because his breathing was so bad - he has an ear infection and bronchialitis. He went home before our egg hunt but did get to do the egg coloring and hunted on his own. His wheezing was so bad, I was very worried!!"
April 21, 2010 "we read Honey Bees book, learned how bees dance and wiggle to talk and then tried it ourselves, we sang Here is the Beehive and we tasted honey"
Sometimes we forget the details.  I really want to do a Social Book for the daycare.  Social Book is a company that uses your facebook posts and the comments on them and even pictures and compiles them into a photo book.  The only problem is I priced out just ONE YEAR and it was WAY too expensive.  And a whole year didn't fit in one book either.  Yep, I sure do use facebook as a communication with parents tool!
December 1, 2011 originally published

This week has been a GREAT week with the daycare kids. On Wednesday I listened to the 16 month old have deep belly laughs as the 4 year olds danced for him. He tried to imitate their moves and soon we were all just laughing. The day was a perfect mix of group and individual activity. The kids improved their fine motor skills and creativity with an art project. It was too cold to go outside but we worked up a sweat using the parachute. We read stories together. Some kids built a huge wooden block castle while others played with the soft barn toy. There were the normal arguments, and a few bumps and falls, but the day sailed along. Everyone gobbled up lunch, which contained a perfect combination of grain, fruits, veggies, milk and protein. Then after a smooth transition of potty and books the kids were soon tucked in bed for nap time. And in no time at all all seven of them were in dream land.
It's days and weeks like this that make me happy in my career choice. There are the total opposite kinds of weeks sometimes. Kids can have their off times, and in this job it sometimes happens that every kid (and myself) have a crabby day and nothing goes right. But then there are days like today where we match lids to boxes then sort them into "cubes" and "cylinders" before we count and compare which group has the most. These days should be caught on film and documented, then wrapped in a bow so that when those crabby days happen we can pop in a DVD of a good day and get back on track.